Landscaper John Wheeler has had his share of big projects, but this one was a once-in-a-lifetime opportunity: an undeveloped five-acre gulf-to-bay sprawl on North Casey Key Road and a pair of nature-loving landlords who gave him the job. said, "Go ahead."
The owners brought together Wheeler, Jerry Sparkman of Sweet Sparkman Architects, and contractor Michael Walker to create an architecturally significant three-building complex on the five lush acres.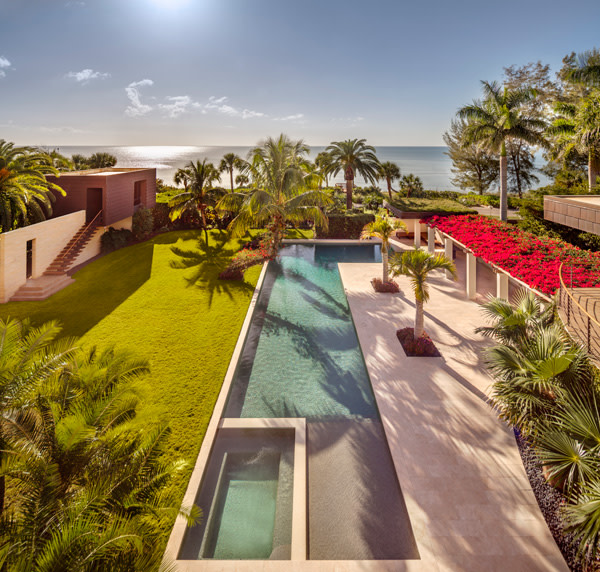 On the gulf side is a long horizontal three-level main house and a separate, smaller, two-story, cube-shaped beach house. Nestled in a grove of more than 30 live oak trees along the bay is a cypress-clad guest house — designed as a tree house, the architect told Sarasota magazine in 2011, with a unique curved roof its kind to mimic the sweep of the massive oak trees that over the eons have been shaped by the western coastal breezes. The entire project won a Gold Best in American Living Award from the National Association of Home Builders and has been featured in national shelter magazines.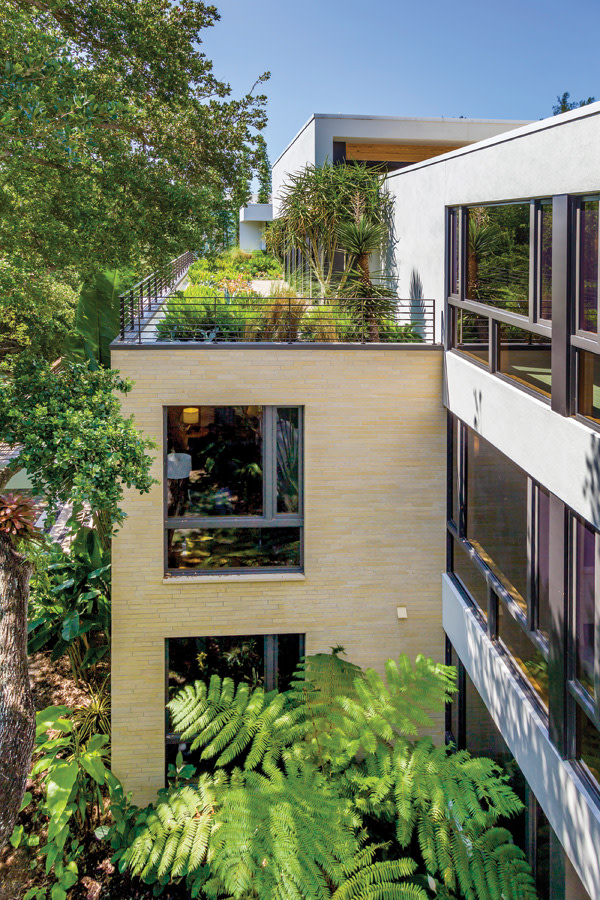 The couple, who split their time between Minnesota and Casey Key, had purchased the property from an elderly couple who had lived there for decades in an old Cape Cod-style house consumed by tangled undergrowth. The live oaks along the bay were so thick with poison ivy that Wheeler hired professional climbers who spent more than a month plucking each vine. "It was like the sculpture came to life, seeing all those winding branches," he says. Throughout the process, he points out, "the ordinances of the new owners were all about the land. "They said our design process was a big responsibility, not just to create their vision, but to honor this special terrain."
After days of digging in the underbrush, Wheeler found a high elevation in the middle of the property that sloped down to the gulf, with three distinctly different ecosystems: the saltwater beach, a "semi-shaded area and semi -sunny with more open space where the main house was going to go", and the shaded old oak hammock.
Along the beach path that crosses North Casey Key Road – originally so crowded with overgrown Australian pines that the beach was not visible from the property – he built a walkway and lined it with beach daisies , sea grapes, buttonhole greens and flexible Sabal palms . "We got really creative with native plants, blue palms, muhly grass, sea oats — different layers and colors," he says.
Man-made water features flow below the elevated main house, anchored by a colorful living wall of bromeliads, orchids and tillandsias. More color comes from the Wheeler fuchsia bougainvillea planted profusely on the pool cabana trellis. (Wheeler has a special source on Florida's east coast that grows bougainvillea for him; they were already 18 feet tall when he put them up, "for instant gratification.") Thousands of flowers fall into the pool and on the deck below – "the pool guy hates them," says Wheeler, but no one can deny their visual impact.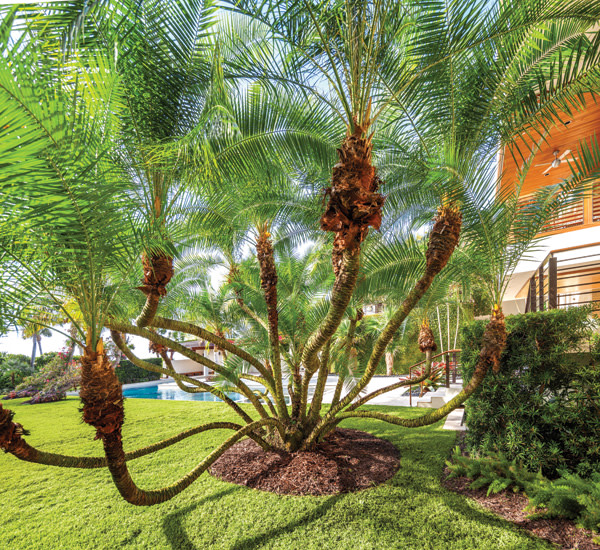 Wheeler introduced more than a dozen different species of palms into the landscape design, including Canary Island date palms and Malaysian coconut palms, as well as Australian tree ferns. By the pool are quirky Old Man palms, "a collector's palm," he says, with trunks covered in thick, curly fibers — they look like the Addams family's cousin Itt with a palm frond hat. And from the former Gianni Versace estate in Miami, he bought a magnificent spider reclinata – a cross between a reclinata and a pygmy date palm – and gave it pride of place on the grassy lawn by the pool.
Outside the main house's top-floor entertainment room, Wheeler installed a green garden roof filled with succulents: giant agaves, hard-to-find tree aloes, yuccas and foxtail ferns. At more than 940 square feet, it's the largest green roof in Sarasota County, an engineering project so big he consulted Dr. Marty Wanielista of the University of Central Florida, whom he calls " the specialist in green roofs in engineering". ." A small green roof also sits outside the girl's bedroom on the other side of the house.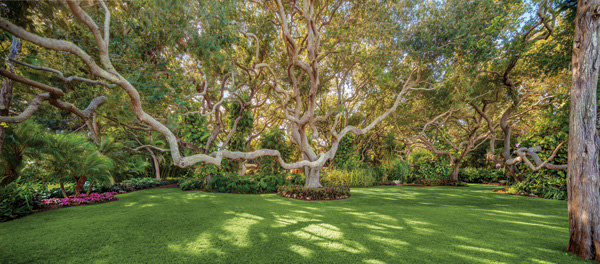 Wheeler calls the old oak hammock along the bay, "just beautiful, like a mini Selby Gardens." He hung bromeliads and huge specimens of orchids. "[Designing] the guest house with these big curved beams to tuck into the oak trees – you have to give Jerry and Michael a lot of credit," he says. "My job was to protect these old live oak trees without harming them."
The logistics of working on such a gigantic project on North Casey Key are formidable. "We often had to close the whole road to bring the materials," he says. And the project is about water; all rainwater from the deck and roof downspouts is directed into a 6,000 gallon underground cistern to supplement irrigation.
Wheeler calls the North Casey Key project "my life's work so far." I'm very lucky." He is so attached to the property ("it's something I love, like giving birth to a baby," he says) that he agreed to stay there. team of seven spend one day a week looking after the property.
For more information on the Sarasota home and design, click here. >>